◈ Selectivity : The presence of bile salts and dyes inhibits most Gram-positive organisms, which only allows Gram-negative bacilli to develop on agar.
The high concentration of bile salts partially or totally inhibits most of the non-pathogenic coliform flora of the intestinal tract. Because Salmonella and Shigella can tolerate these inhibitory substances, they generally develop faster and larger than coliforms.
◈ Differentiation : The fermentation of carbohydrates such as lactose, sucrose and salicin is one of the differentiating characteristics used to identify coliforms. Bromothymol blue turns yellow in the presence of acid and fuchsin turns red in the presence of aldehyde.
Salmonella and Shigella are unable to use these three specific carbohydrates (translucent colonies, light green or greenish blue ), while most non-pathogenic coliforms can use at least one (orange, yellow or salmon coloured colonies ).
Additional differentiation based on hydrogen sulphide production is possible due to the presence of sodium thiosulphate and iron citrate. It results in black colonies or black center, staining due to the formation of iron sulphide .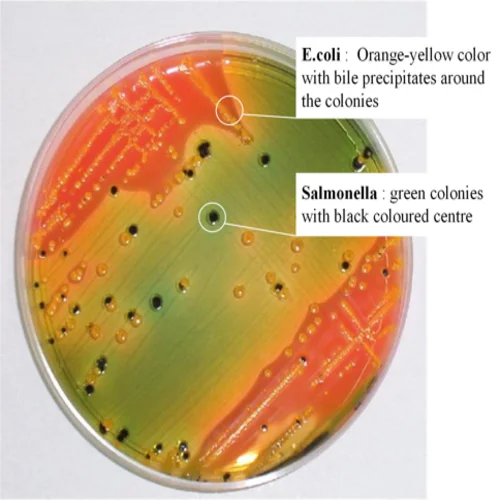 Salmonella and E.coli on Hektoen Enteric agar